About iD
Bladder weakness can deeply affect anybody at any point in their life. It could be losing some drops during pregnancy, leakage caused by surgery or a problem linked to ageing. As a result, you might feel that your daily activities are limited, when even simple activities such as going for a walk, shopping, exercising or socializing may seem difficult to manage, leaving you with a feeling of embarrassment or frustration.
iD has been developed paying extra attention to the physical and emotional implications of all levels of incontinence. Its product range has been designed to help you to remain confident, and continue your usual activities with a feeling of protection and security.
iD offers a vast assortment of disposable pads suitable to all types and levels of incontinence. With a large range of absorbencies and sizes available, the products offer both comfort and discretion. iD pads are latex-free and dermatologically tested, thereby minimizing skin irritations, and providing users and carers with an efficient range of solutions to continence management.
The website will provide you with useful information and advice about incontinence.
iD is produced by Ontex, one of Europe's leading hygienic disposable manufacturers and distributors. iD originates from the company's long experience in the sector in combination with consumer studies and sophisticated lab testing. Sustainable manufacturing technologies, complemented by rigorous testing processes ensure its products are made to the highest standards. Around the world, more than 2,5 million people are already using our products, trusting our expertise to reduce the impact of bladder weakness in their everyday lives.
iD mission is to continue providing users with the most reliable, discreet and efficient continence management solutions enabling them to live their lives to the full.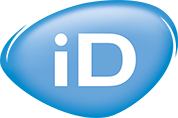 to help you get on with your life!