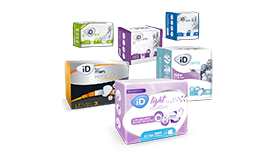 ID, a comprehensive assortment of disposable products suitable to all types and levels of incontinence. ID-Direct aims to help men, women and children suffering with incontinence to get quality advice and products.
> Read more on ID products …
Product Finder
You may choose your products by answering a few questions.
Is iD available in my country?
For information on the ID brand in my country, please contact our iD Helpdesk per Email, Telephone or Fax.