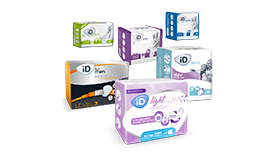 ID, a comprehensive assortment of disposable products suitable to all types and levels of incontinence. ID-Direct aims to help men, women and children suffering with incontinence to get quality advice and products.
> Read more on ID products …
Product Finder
You may choose your products by answering a few questions.
More information ...
Click here to download the complete product catalogue iD.

Learn more about Ontex
Click on the image and have a look at the video about Ontex and our brand iD.
Check also the Ontex website to learn more.
Find the nearest Distributor
For more information on iD, contact a distributor in your area* or contact our iD Help Desk by E-mail, phone or fax.
For any other business information, please contact:
Els Cools - Sales North America
E-mail: els.cools@ontexglobal.com
* Find an iD Distributor near you