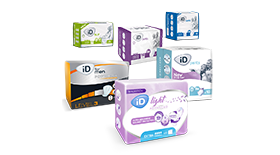 ID, a comprehensive assortment of disposable products suitable to all types and levels of incontinence. ID-Direct aims to help men, women and children suffering with incontinence to get quality advice and products.
> Read more on ID products …
Product Finder
You may choose your products by answering a few questions.
Get a free sample
To request a free sample select your product via the product finder or visual search below and fill out the online form. One sample is permitted per household.
Order a sample via the product finder
Order a sample via the visual search