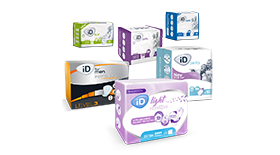 ID, a comprehensive assortment of disposable products suitable to all types and levels of incontinence. ID-Direct aims to help men, women and children suffering with incontinence to get quality advice and products.
> Read more on ID products …
Product Finder
You may choose your products by answering a few questions.
Join the iD community
Why not share your experience and tips on the iD Forum. Browse and read other stories which may provide you inspiration and ideas for your own bladder management. You can ask an expert for advice. Our qualified continence nurses will answer your incontinence issues or worries.
> Read more...
Is iD available in my country?
For information on the ID brand in my country, please contact our iD Helpdesk per Email, Telephone or Fax.