iD Pants XL Plus
ID Pants are pull up briefs designed to allow allow you to maintain your independence and enjoy life to the full. They offer an ideal solution for managing moderate to heavy urinary incontinence. Easy to use, ID Pants can be worn and taken off like any regular underwear. These products combine comfort and discretion due to their elasticated waist and cotton feel backsheet. PLUS For moderate to heavy Incontinence
1 bag (14 pieces):
£ 12.59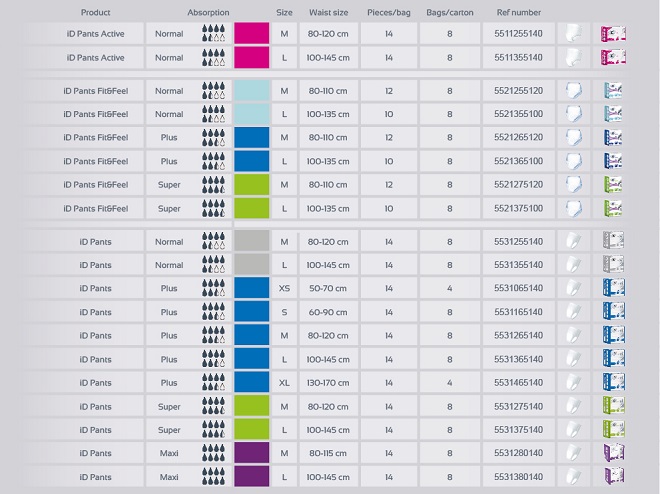 Odour Control
An odour control system present in the absorbent core prevents the formation of ammonia and thus of unpleasant odours
Fast Absorption
The acquisition layer promotes the fast passage of urine through to a multi-layer absorbent core containing SAP (Super Absorbent Polymers). SAP is designed to absorb and lock urine inside the core of the pad, reducing the risk of rewetting
Perfect Fit
The elasticated zones of our products ensure an anatomical adaptation to the body for maximum comfort and discretion
Cotton Feel
A soft textile back sheet provides maximum comfort and discretion
Anti Leakage Protection
Integrated anti leak cuffs made of waterproof material help to prevent side leakage, maintaining security and discretion
Dermatologically tested
ID products are dermatologically tested, and proven to not cause skin irritations
No latex
Our products are latex free
ID PANTS APPLICATION
Ensuring the size indicator is at the back, step into the Pants and pull them up
Adjust for comfort and security
Remove the pants by either pulling them down or tearing the side seams
Once removed, simply roll-up the pants and dispose of carefully
Might also be interested in:
iD Slip Plus

Ultra absorbent disposable all-in-one briefs for moderate to heavy urinary incontinence.

More info
Product Finder
You may choose your products by answering a few questions.
Promotion !
Free standard delivery on all orders over £45!

Pregnant or just given birth?
Click here for your baby diapers Freelife
Get your free continence care product sample
To request a free sample select your product via the product finder or visual search below and fill out the online form. One sample is permitted per household. (There is a 1-2 week wait for the iD samples due to the sample room renovation)
Order a sample via the product finder
Order a sample via the visual search