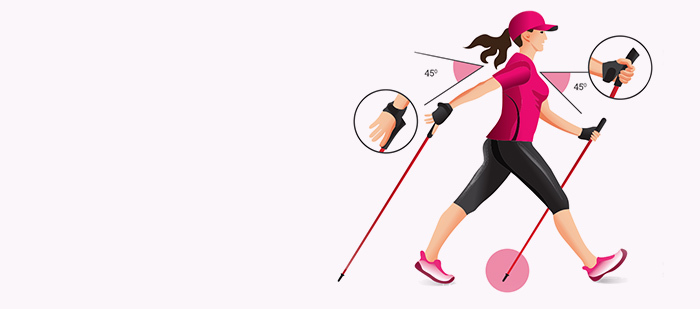 Nordic Walking and its health effects
How Nordic Walking improves your health

Updated on: 13/05/2019

Nordic walking is like a normal walk but more dynamic. In this type of walk, you improve your activity by using Nordic walking poles. This walk involves a special technique that ensures the use of 90% of your muscles, thus bringing you a complete physical exercise.

The principle is simple: you have to accentuate the natural movement of arms during walking and propel the body forward with two sticks that allow you to go faster and walk longer.

It is in groups that this activity is the best appreciated. You can take a walk in nature, giving you a sense of freedom while you exercise. This activity allows you to spend quality time with your friends and relatives and discover natural places, sometimes unknown, near your home.

This technique brings a lot of health benefits, namely:

1. It improves your posture
2. It allows muscle building and can thus bring benefits such as relieving back pain or better control of the bladder
3. It is a complete physical activity that involves the exercise of 90% of your body muscles
4. It helps improve your heart rate and calorie burning
5. It is quite easy to do and avoids you to engage in other more strenuous physical exercises

How can I start?

Remember that a good Nordic walking technique is essential.

 It is strongly recommended to be accompanied by a professional in the practice of this activity and if necessary, do not forget to ask your doctor for advice. However, avoid going too far in practice: all you need is good advice and tips from an expert.




You can easily get Nordic Walking Sticks. We advise you to make sure you collect all the necessary information before your purchase.
> Back
Product Finder
I am a Woman.
Testimonials
Veronica, 38

I am Veronica, 38. I am a mother of two and I recently started suffering from bladder weakness. With bladder weakness ...

> Read more

Maria, 65

I am Maria, a 65 year old ex-ballroom dancing teacher. I was always a very active person ...

> Read more

Gail, 34

I am Gail, I am 34 years old and discovered ID products shortly after I had my baby...

> Read more
You might be interested in:
iD Pants

Disposable pants for moderate to heavy urinary incontinence. > Read more