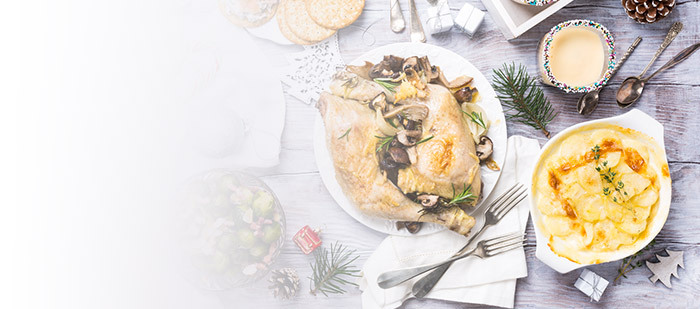 Forget about the Christmas excesses in your diet with these healthy alternatives
Let's face it: to a greater or lesser extent, Christmas time brings with it an increase in calorie intake.

If people offer us a piece of Mince Pie or Christmas Pudding, it's hard for us to say no. We attend business lunches and dinners where alcohol is more than often served, because we are celebrating a happy time. We eat more food at Christmas than at other time of the year and these are defiantly the more indulgent types.

Therefore, we want to propose healthier alternatives so you do not forget the routine and this year:




- Try the "mocktails": cocktails without alcohol, much healthier than usual.




- Alternate champagne with water or beer without alcohol: you will feel better for it and your health will appreciate it.




- Change the Pâté for healthier foods, such as smoked salmon or prawns, although you have to consume everything with moderation.




- The days between important festivities eat healthier than usual, to make a "detoxification" of the excesses.




- If you are in charge of the dinner, try to cook lean meats such as chicken or turkey, instead of pork.




- Move on! Go out to buy the gifts for the family, take the opportunity to visit the typical houses or walk through your city to see the Christmas lights. Any excuse is good to do some exercise.




And remember that if you have any doubt you should check it with your doctor.
> Back
Product Finder
I am a Woman.
Testimonials
Veronica, 38

I am Veronica, 38. I am a mother of two and I recently started suffering from bladder weakness. With bladder weakness ...

> Read more

Maria, 65

I am Maria, a 65 year old ex-ballroom dancing teacher. I was always a very active person ...

> Read more

Gail, 34

I am Gail, I am 34 years old and discovered ID products shortly after I had my baby...

> Read more
You might be interested in:
iD Pants

Disposable pants for moderate to heavy urinary incontinence. > Read more