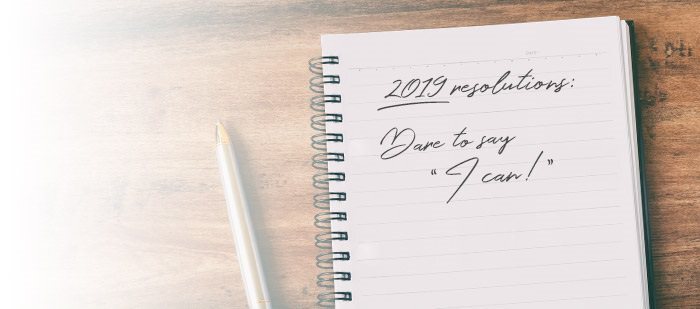 Easy New Year Resolutions
Setting new plans for this year

Often, with New Year, we set ourselves great goals that over the months we are not able to fulfill. These are exceptionally large goals that require a profound transformation and because we don't see changes fast and we frustrate ourselves. Sometimes we don't need such great purposes to accomplish what we want. What do you think if this year we go step by step with these small changes?

How to set realistic new habits

1. Eat healthier but allow yourself some concession: It's not about changing your diet radically. Balance is next to wellness. If you want to eat healthier, try to make realistic changes. Introduce more fruits and vegetables reduce the level of sugars and ultra-processed food instead of radically changing your diet. It will cost you less to adapt to the change.




2. Do sport regularly: January is in fact the month with more subscriptions to the gym. Make it your goal to go two or three times a week, but do not go the first two weeks every day, because the third you will be exhausted and you will probably abandon it. Regular exercise with intermittent breaks will help you stay healthy without overexertion.




3. Be positively realistic: Visualise your purposes and the steps you must take to achieve them, but be aware of your possibilities and the obstacles you may encounter.




4. Do not postpone your tasks: Procrastination leads to higher levels of stress and anxiety. Although at first you think it is a good idea to postpone your do's to the end of the week you will feel better if you have fulfilled your tasks on time.




5. Find time to be with your family: Even if you sometimes feel that daily obligations don't allow you a single free moment at all, try to take some time to see family and friends. This disconnection will help you with the stress and the burden of the routine.



> Back
Product Finder
I am a Woman.
Testimonials
Veronica, 38

I am Veronica, 38. I am a mother of two and I recently started suffering from bladder weakness. With bladder weakness ...

> Read more

Maria, 65

I am Maria, a 65 year old ex-ballroom dancing teacher. I was always a very active person ...

> Read more

Gail, 34

I am Gail, I am 34 years old and discovered ID products shortly after I had my baby...

> Read more
You might be interested in:
iD Pants

Disposable pants for moderate to heavy urinary incontinence. > Read more