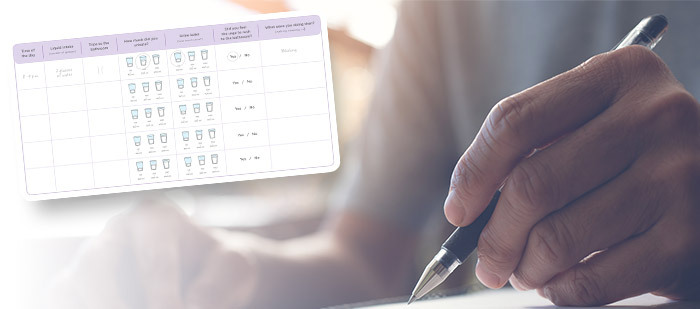 What is a voiding diary and what is it for?
When going to the bathroom becomes a ritual

Updated on 16/05/2019

Have you ever noticed that you go to the bathroom, and soon after you have the need to go back? Do you have the urge to go in short time intervals? Do you take as a custom to make a visit before leaving home "just in case"?
If the answer to these questions is yes, perhaps you should complete a voiding diary for a few days and check with your healthcare professional.
A voiding diary is a record of voiding activity, which organizes your daily activity visually and completely.
This diary will help your doctor understand your voiding routine and in this way he can know in a more precise way if you have issues around bladder control. It usually has different formats, but in all of them there is a common set of data: record of all the episodes of urination, possible losses, fluid intake throughout the day, the level of your activity, etc.
Download your voiding diary by clicking on this button



How to protocol your voiding


Normally the diary is filled for about three or four days.
If possible, it is recommended to fill the bladder diary in days where you perform different activities and routines, so that your doctor has varied information about the possible situations that you face in your day to day and know what may be the cause of the possible losses you can have. This way you will get more complete information about your voiding habits.
It is possible that, even if you do not suffer from issues around bladder control due to a medical problem,
you may have unhealthy habits. The voiding diary will make you know them and have better habits.
It is important to pay attention not only on the bladder but also on the food we consume (diuretics, which we will talk about on another occasion) can cause unwanted problems. For example, drinking tea before going to sleep is an action that sometimes we do not pay attention at all and that can cause us to wake up in the middle of the night with the urgent need to go to the bathroom. It does not mean that you have bladder control issues: it is due to the diuretic action of the beverage that you have consumed hours before which leads to this problem.

If you suspect something is not right or you have doubts, after completing the voiding diary for a few days, talk to your doctor and ask for advice. He can get you out of doubt and make sure everything is fine.
Meanwhile, you can train your pelvic floor with Pelvic floor exercises from today with this tips.

If you want to know more about links between food and bladder function, read here.
> Back
Product Finder
I am a Carer.
Testimonials
Elisabeth, 48

Hello, I am Elisabeth, I am living in with my 72 year old mother in a two bedroom terraced house ...

> Read more

Mary, 41

I am Mary, my fifteen year old daughter was involved in an accident when she was five...

> Read more

Anne and Albert, 50

Hi, I am Anne, a 50 year old housewife. For a few years, my widowed father, has been living with me and my husband...

> Read more
You might be interested in:
iD Pants

Disposable pants for moderate to heavy urinary incontinence. > Read more

iD Slip

Ultra absorbent disposable all-in-one briefs for moderate to heavy urinary incontinence > Read more